Coming soon: When A Woman Tells the Truth: Writings and creative work by women over 80
Exclamation Points: Collected Poems
Tell Me the Number before Infinity:
The Story of a Girl with a Quirky Mind, an Eccentric Family, and Oh Yes, a Disability
with Becky Taylor
Red Flower: Rethinking Menstruation
Anthologies edited by Dena Taylor
Feminist Parenting: Struggles, Triumphs, & Comic Interludes


Women of The 14th Moon: Writings on Menopause
with Amber Coverdale Sumrall
Sexual Harassment: Women Speak Out
with Amber Coverdale Sumrall
Disabled Mothers:
Stories and Scholarship by and about Mothers wih Disabilities
with Gloria Filax
The Time of Our Lives: Women Write on Sex After 40
with Amber Coverdale Sumrall
Published by Dena Taylor
Murawina: An Authentic Aboriginal Message
home
Women of the 14th Moon: Writings on Menopause
Edited with Amber Coverdale Sumrall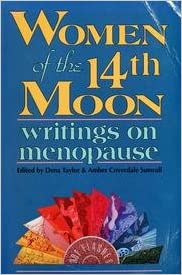 From Library Journal
This anthology of poetry and prose by women offers unique first-person accounts of menopause. The 90 contributors--Ursula K. Le Guin, Marge Piercy, Betty Friedan, and Brooke Medicine Eagle, among others--present their feelings about this transition and their reactions to the negative values that society and the medical establishment have given to women who are no longer fertile. They encourage women to consider menopause as a positive change bringing new freedom. Unlike other books on the subject (Sadia Greenwood's Menopause Natural ly , Volcano Pr., 1989. rev. ed.; Anne Dickson and Nikki Henriques's Women on Menopause , Healing Arts Pr., 1988), this one is not restricted to medical and health information. The contributors discuss personal thoughts and urge women to use menopause as an opportunity to make creative changes in their lives. An interesting addition for public, health, and women's studies collections.
This book is available from Dena Taylor detaylor@cabrillo.edu
Dena Taylor, MSW, Rutgers University, is retired from careers in social work and education.